Garage Door Service Bellflower is a residential garage door servicing company.
We can install, repair, and maintenance garage door system. We are a full service company, so we can assist you with any garage door issue that you may encounter. We only employ fully licensed technicians to service your garage doors. We have a 90 day warranty that guarantees that we will successfully resolve your garage door issues. We are certified to work on all major brands including Chamberlain, Craftsman, Genie, LiftMaster, and Sears. We can help you no matter who fixed your system. We want to serve you as quickly and effectively as possible. That is why we offer same day service. We promise to resolve your issue as quickly as possible. We do not want you to be inconvenienced by a broken garage door. It can be a hassle and a security risk. We offer twenty-four seven emergency garage door repair so that we can fix any pressing issues immediately. We are dedicated to serving you in the best way possible.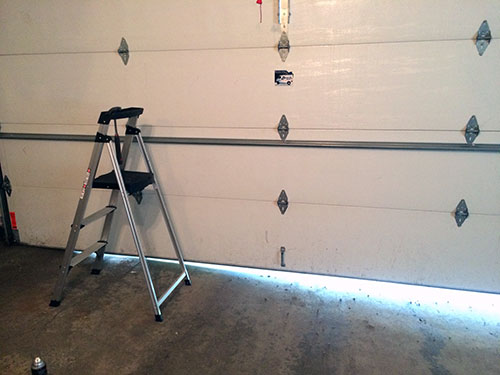 We repair all aspects of the garage door. One of our most common repairs is the garage door spring. If the spring on your garage door malfunctions, it can be a potential hazard to your family. The spring holds the garage door open or closed. If it malfunctions the garage door could drop unexpectedly. We repair all types of garage door springs. This includes extension spring repair, galvanized garage door springs, oil tempered garage door springs, and torsion springs. If you are worried about your garage door springs we can perform a consultation to check your spring's performance. We can also tell you if a spring can be repaired or needs to be replaced. Call one of our trained professionals to help you with this issue.
We can help you with a variety of other repairs. We service garage door cables. We can replace worn or broken cables. If the cable comes off drum, we can adjust it. If your door is old, it may have begun to warp. We can readjust your door, if this happens. We are here to aid you with any garage door related issue. We frequently repair garage door openers. We are experienced with all styles of openers including chain drives, screw drives, and belt drives. We are often asked to reprogram garage door opener remotes or clickers. You may also need to have your garage door tracks adjusted or replaced. Some of our other common repairs include door fasteners, seals, and hinges. No matter what component of your garage needs attention, we can help you.
Bellflower, California is populated by over 76,000 people. This region is part of the greater Los Angeles area. The name comes from the French word for apple blossoms, belle fleur. This area is growing rapidly. Sports are very important to the citizens of Bellflower. Here you can find Bellflower Golf & Tennis or the Hollywood Sports Park where residents can pass the time driving bumper cars, playing on bouncers, or rock climbing. This is a lovely, flourishing city. Garage Door Service Bellflower is excited to be a part of this community and to serve the citizens of this city.
Please allow us to help you with all of your garage door related needs.